According to the Health and Safety Executive's (HSE) data for 2022/2023, a total of 135 individuals lost their lives due to workplace accidents in various industries such as construction, agriculture, manufacturing, and transportation across Great Britain. Over 30% of all workplace fatalities were caused by falls from height, which is a 5% increase compared to last year's percentage of 25%.
The figures reveal a worrying trend despite our best efforts to implement new practices to keep everyone safe. This year saw an increase of 11 more fatalities from falls from height which remain the most common kind of fatal accident and a furthermore 12 overall for all work-related accidents.
A further 68 members of the public were killed following a work-related incident in 2022/23. This is a decrease of 20 from last year.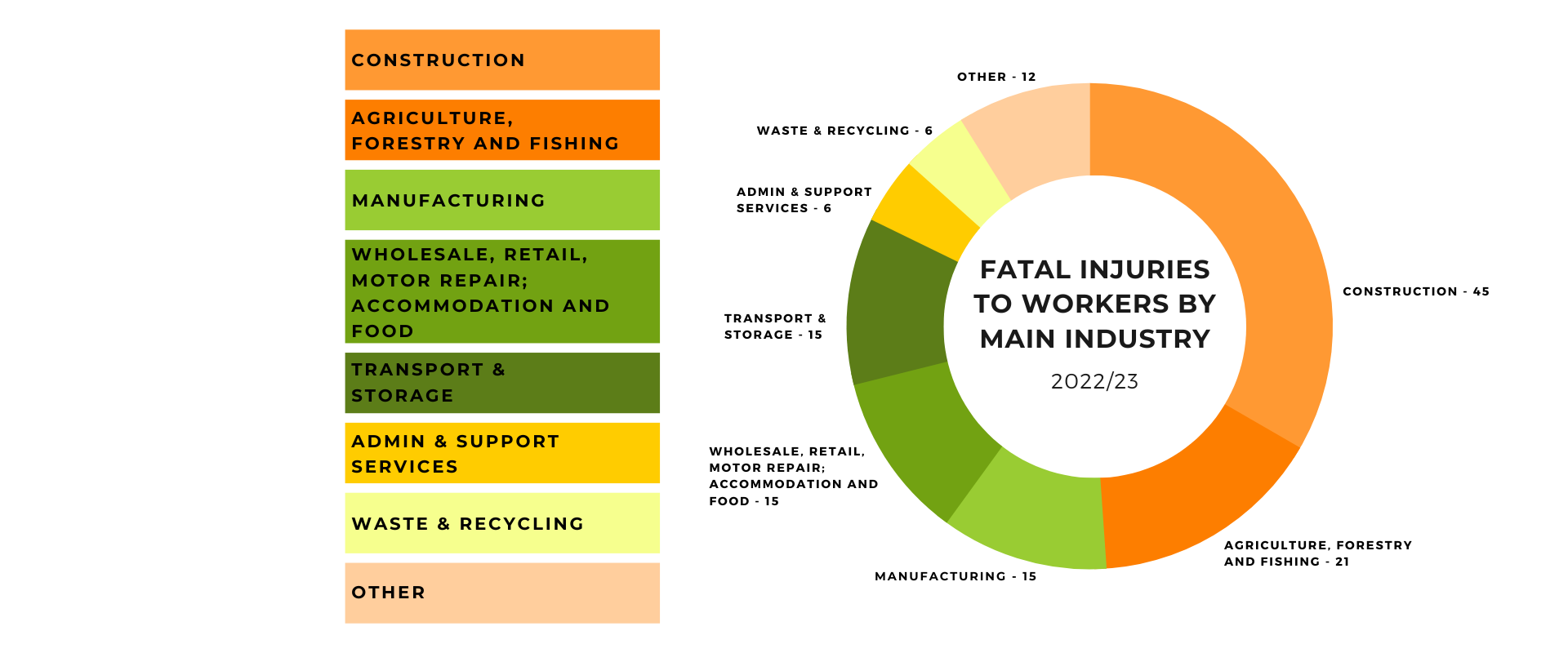 The East Midlands region had the highest number of deaths in 2022/2023, with 15 reported incidents, followed by the Northwest with the second highest and the Southwest with the third highest. In 2021/2022, the Southwest had the highest number of deaths, with 19 reported incidents. In 2020/2021, 145 fatalities were reported, with the Southwest having the highest number of deaths at 24.
Read the full report here.
How can we all work together to produce a solution to keep everyone safe.
Taking proactive steps is crucial in preventing any unfortunate incidents in your business. These steps involve implementing appropriate control measures and evaluating potential risks. It is imperative to ensure that people and equipment are well-prepared and avoid taking any shortcuts regarding safety protocols. Doing so can create a safe and secure working environment for everyone involved.
At HLS (Height, Lift & Shift), we offer work-at-height risk assessments and on-site surveys. Our team assesses your work environment, discusses training and maintenance needs, and uses this information to develop recommendations and an action plan. This process is designed to ensure safe and compliant work practices at heights. It is an ideal first step towards achieving a safe work environment.
Choose the right equipment
Choosing the right equipment is important when it comes to complying with Work at Height regulations. Typically, a competent person within the organisation will make this decision based on their knowledge of the specific task at hand. Our HLS team can assist you in deciding what equipment is required for your team, providing onsite surveys and risk assessments to determine the most cost-effective and efficient solution. Our range of equipment includes low-level access options, vertical mast lifts and steps, ladders, and towers. For added flexibility, we offer financial options such as hire, lease, and purchase, as well as used equipment to help save you money on brand-new equipment
It is essential for individuals working in areas were falling from a height is risky to receive proper training to increase awareness of potential dangers. When Managers recognise the training needs of their employees, this will boost motivation, work satisfaction, and performance by developing their knowledge.
According to a magazine published by the British county council, although Britain has one of the lowest rates of work-related accidents, there has been a 25% increase in poor mental health among employers since 2019.
At HLS, we have a team ready to help you find the perfect training course to meet your needs from our extensive selection.
Contact us here
Useful resources to download