The challenge

For a private health care provider managing buildings across the UK, safety and compliance are of paramount importance when working at height. The introduction of Government COVID-19 guidance for businesses meant that everyday work at height activities needed to be reviewed to manage risks..
Safety first: the prevention of falls from height and transmission of COVID-19
Selecting the right access equipment is crucial for ensuring safety and efficiency as well as compliance with Health and Safety Regulations. Pre-existing risks assessments were to be reviewed before any of the buildings could be reopened to employees and the general public.
After a detailed risk assessment of all work at height activities were carried out in light of the new safety measures required to minimise exposure to COVID-19, the use of ladders were identified as being 'high risk'.
Ladders were used frequently for routine cleaning tasks and maintenance, often in public areas and usually undertaken in pairs, with one worker footing the ladder, therefore maintaining social distancing (2-metres) as advised within Government guidance would be problematic.
A key control method was identified, which would be to find a solution where workers would be able to carry out two-person jobs single-handedly for frequent, short duration tasks, undertaken at low levels, indoors.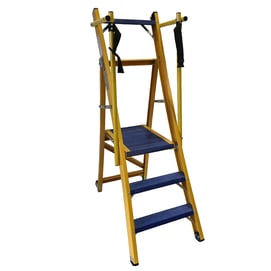 Our Solution
The HLS 360 stepladder was an ideal solution to enable safe social distancing as it enables the user to work alone and it's designed to meet the work at height regulations by providing a safe low-level access platform for indoor use, therefore replacing the need for standard ladders.
The user can access a 360 degree working platform - (550m x 400mm) where they can work side or end-on. The platform locks the ladder in place and is self-supporting which creates a good deal of additional balance when upright in comparison to traditional ladders. The additional stability reduces the need for a second person to foot the ladder. This has an added advantage right now by enabling users to work alone and social distance safely when working at height.
The 360 step ladder includes a tool tray at the top which provides extra storage space on the platform and reduces risks from falling items, as well as improving efficiency by reducing the amount of back and forth and up and down for many tasks. Read more on Safety products: HLS 360 Ladder improve safety, increase productivity and efficiency.
Key Benefits
360 degree working platform - 550m x 400mm - user can work side or end-on

Aluminium handrails as standard

Compact and lightweight

Folds flat for easy storage and transportation



The Result
Compliance with COVID-19 social distancing requirements

Solution for tasks where the previous solution was not suitable

Compliance with HSE regulations and company safety requirement
A safer solution for working at height

Working at height risk-managed

Improved efficiency in carrying out working at height tasks
Additional benefits
Increased productivity when working at height
Downtime and business interruptions reduced
Positive safety culture
Our team is ready to help any business or organisation seeking advice on how to prepare to re-open effectively. To speak to one of our work at height specialists call 0113 287 8446 or email hello@hls.co.