With the recent downpour and general time of year businesses are again facing the challenge of carrying out working at height where crossing difficult terrain provides problems for heavy access equipment.
New technology and design is constantly improving the way we work at height and the innovation of tracked powered access equipment leads the way.
What is "tracked" and how does it work?
Tracked machines are all-terrain powered access platforms that specialise in minimising the challenges posed by adverse weather and challenging ground conditions. Not only are tracked machines able to operate and move over soft, undulating ground and steep gradients, but they are also leading the way in the indoor access market.
Tracked machines do not operate on the conventional four wheels that are most common on access platforms. The access equipment is mounted on a continuous track which spreads the weight of the machine out over a larger surface area, reducing the pressure on the ground. This enables the machine to travel across fragile flooring, undulating terrain and even steps, with ease. Tracked access platforms really are your "2 in 1" indoor and outdoor specialist machines.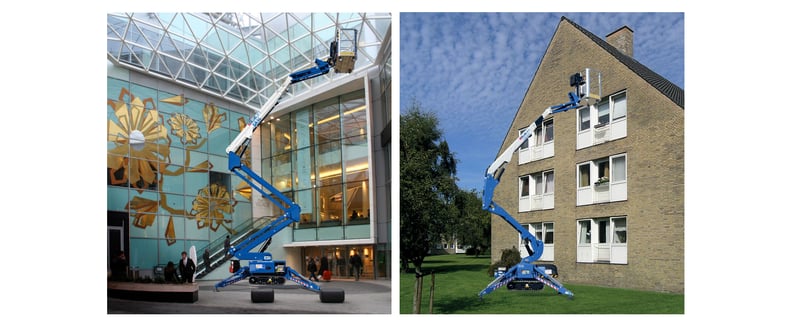 Benefits of our Bluelift tracked access platforms
Remote controlled

- Machines can be easily transported around sites via remote control reducing the risk to operators of travelling on board over difficult ground conditions. Available in both cable and radio remote.
Small foot print

- and compact design of the Bluelift machines makes getting on-site much easier. With the option to drive the machine via remote, saving on the extra height needed for a ride along operator tracked machines excel in their ability to gain access through narrow doorways, tight gates and areas of low head clearance.
Auto start and stop engines

- Saves fuel and makes operation quieter by stopping the engine and automatically re-engaging when it's time to move. Auto start and stop also works on electric motors to preserve energy.
White track option

- Non-marking tracks, preventing marking of floors when working indoors.
Blue Hybrid

- Dual power source Revolutionary automatic mode shifts between a lithium battery system and a combustion engine. Perfect for both indoor and outdoor work and for when outdoor work needs to be quiet.
Blue Lithium Lift

- A 100% electric platform that provides odour and noise free operation. Operates and charges on both 110v and 220v.
Articulating and Telescopic Boom Lifts

- Boom lifts do not only lift up, but reach out, making access to hard to reach areas much easier. The ability to approach work areas from a variety of different angles avoiding potential hazards such as cables, branches and tight indoor structures make booms the perfect all-rounder.
Automatic turret centre stop

- Eliminates the need for operators to rely on visual alignment for safe lowering.
Automatic self-stabilizing system

- Self-stabilizing system automatically and proportionally manages the stabilization of the lift making in quick, easy and safe.

Ground clearance

- Great ground clearance enables excellent manoeuvrability around difficult areas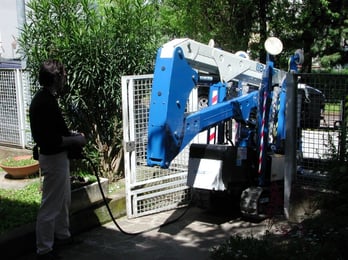 Using a machine that operates on tracks significantly reduces the risks companies have when working on soft ground, fragile interior floors and a number of other challenging environments. Our range of Bluelift specialist access platforms provide the perfect solution for working in areas where restrictions of height, width, weight and/ or ground restrictions pose a problem.
For more information on the Bluelift machines click here.