Part 1 – Falls From Height Within The Food and Drink Manufacturing Industry
Businesses in the food processing industry work at height on a near daily basis: clearing blockages, inspecting and repairing equipment and high-level cleaning, etc.
However, the pressure is always on to uphold productivity, which means work at height, may sometimes be carried out in a non-compliant way that might directly put your staff as well as your products at risk. When businesses try to take shortcuts in a bid to maintain daily production, accidents tend to happen – in fact, ladders and step ladders alone are responsible for at least 40% of work at height accidents in the food industry.
Falls from height in the food and drink industry
Statistics published by the HSE on falls from height in the food and drink industries reveal they:
are the third highest cause of fatal injury, comprising 20% of fatal accidents
result in around 80 major injuries (broken limbs, fractured skulls, etc) each year
result in a further 230 over-3-day absence injuries each year (this statistic is taken from the HSE data above, but is often reported to be 7 -10 days of work)
result in serious or even fatal injury even when the fall is less than 2m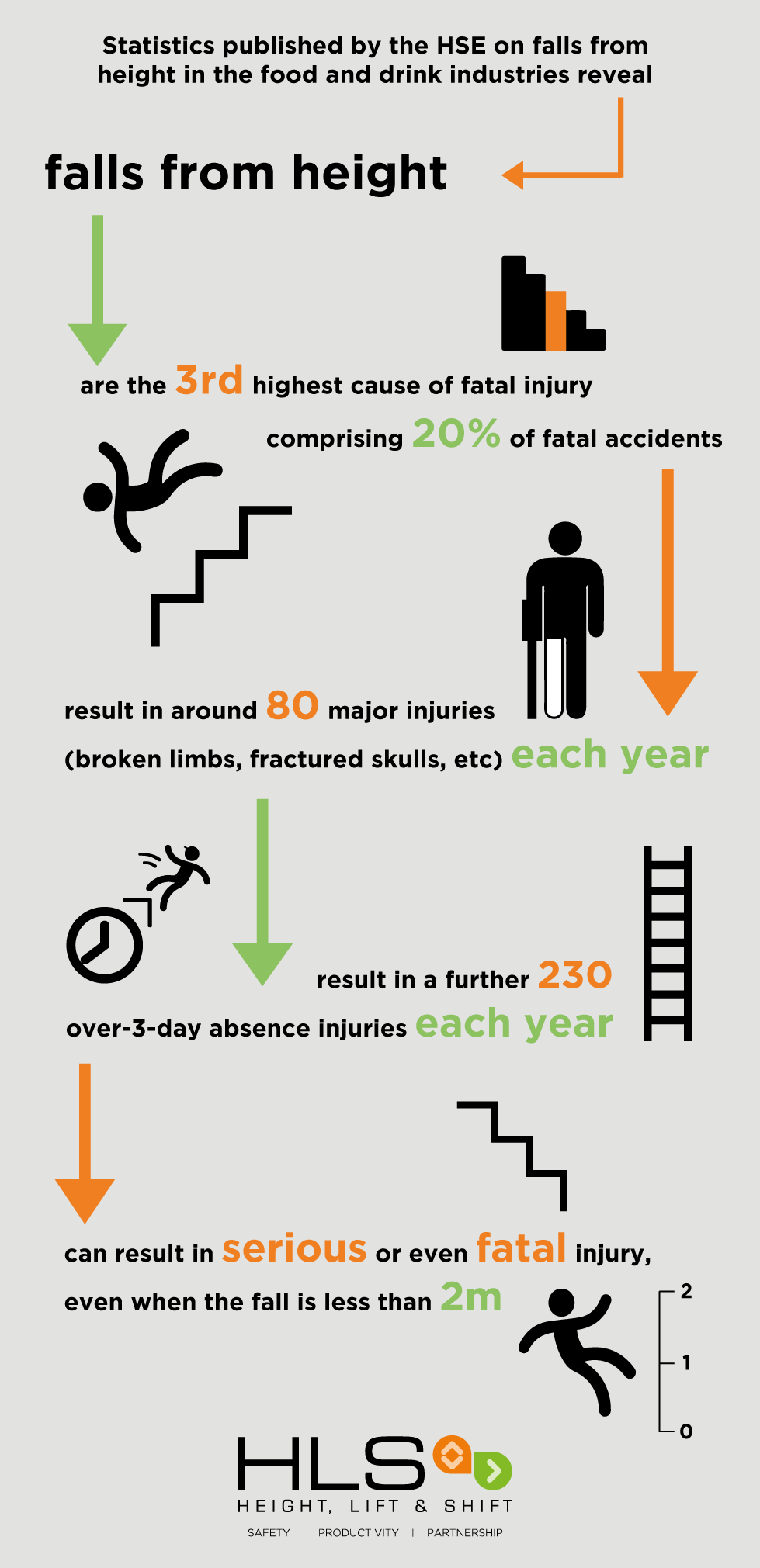 Places from where falls occur and activities being undertaken
In the food and drink industries, analysis of 150 falls from height accidents investigated by HSE over three years indicated the following places from which workers fell: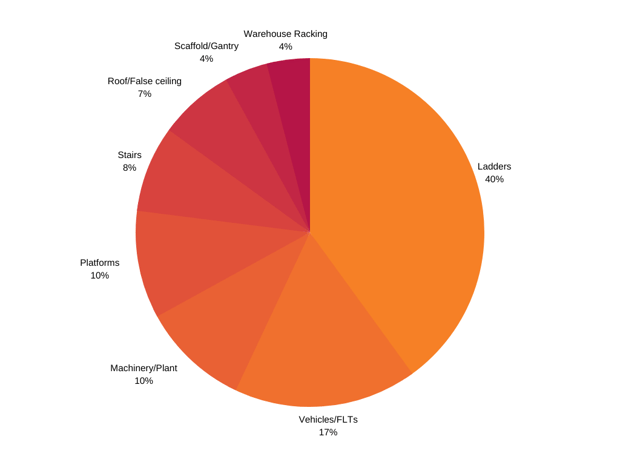 Ladders: 40%
Vehicles/FLTs (see below): 17%
Machinery/plant: 10%
Platforms: 10%
Stairs (see below): 8%
Roof/false ceiling: 7%
Scaffold/gantry: 4%
Warehouse racking: 4%
Where workers fell from vehicles, 35% fell from the back of a lorry, 31% fell from FLT forks, 13% from cab steps, 9% from the top of a vehicle and 4% from tanker steps.
Falls on stairs are more frequent than that indicated in the investigated sample above. One third of over-3-day absence injuries caused by falling in the food and drink industries, occur on stairs.
The activity being carried out when a person fell depended on the place from which they fell. For example, falls from scaffolds, roofs and ladders were usually associated with maintenance. Where the fall was from machinery or plant cleaning, checking and sampling were the main activities being undertaken.
Source HSE: http://www.hse.gov.uk/food/falls.htm
At HLS, we have expansive experience and technical expertise, providing bespoke advice and equipment to household food manufacturing names across the UK. We fully understand the needs and demands of the food manufacturing sector and offer an entire range of work-at-height platforms and bespoke solutions that are ideally suited to meet the demands of a food manufacturing and packaging warehouse.
We'll carry out a site survey to assess your work at height activities and recommend the best options according to your operational scope. We can also offer your staff onsite training on how to use working at height equipment as well as provide full service and repair support.
Discuss your specific needs today with one of our working at height experts.