Give your business a lift by improving safety and efficiency when working at height.
One of the smartest ways to gain efficiency when working at height in a wide range of businesses from offices, retailers, factories; data centres; libraries and archives to hospitals; schools, universities, museums and other public buildings are Access Platforms. Suitable for nearly all repair and maintenance tasks they enable operators to work quickly and safely alone at heights.
What are the reasons to replace ladders and steps with access platforms?
Common reasons are:
Reducing risk and increasing safety
Demonstrating "corporate conscience"
Reducing the impact of employee health and wellbeing issues and improving absence
Compliance with current HSE legislation and guidance
For more examples of suitable alternative equipment to use instead of ladders read our blog:

what are the alternatives to steps and ladders

?
Safe, comfortable and cost-effective, there are many reasons why access platforms are a practical alternative to steps and ladders.
There are several reasons to use an access platform over a ladder, including:
Low-level access platforms are a good choice as they are easy to use, compact and can reach a wide range of heights. Users can easily hold equipment, supplies or tools when at height.
Access platforms also increase productivity as they only require one operator. Effectively moving a two person job to a one person job as it removes the need to have a 2nd team member footing the ladder. That frees this team member up to perform other essential duties. It also frees the operator up to use both hands whilst working at height helping to cut the time it takes to get the job done by as much as fifty per cent!
We have created the following video showcasing the HLS Hugo to help you understand how this access platform compares to step ladders when undertaking a routine maintenance task. In the short video, the operator completed the work at height task in fifty per cent less time using Hugo Lift than using step ladders.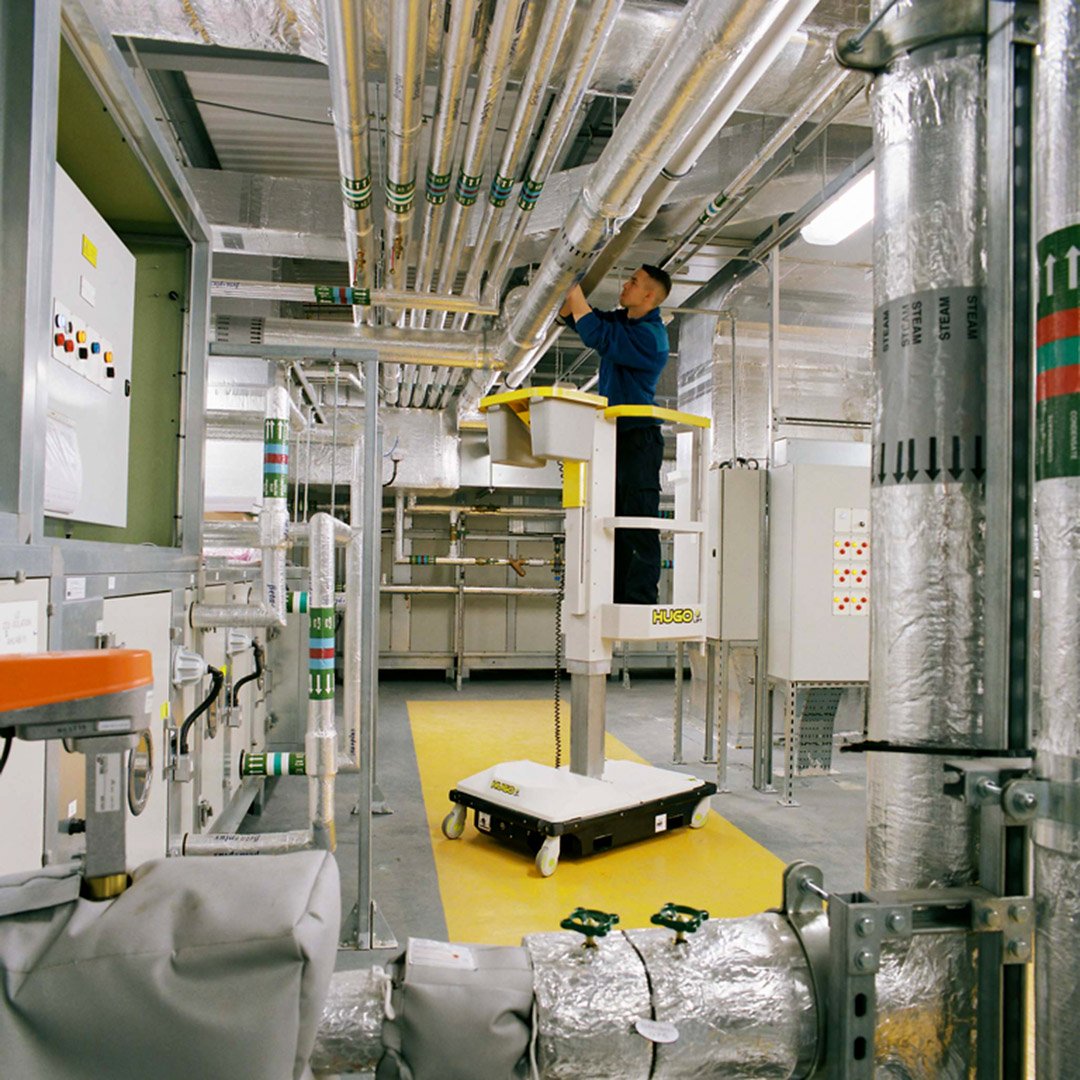 Improved employee safety & welfare
Employers can improve safety and employee welfare by investing in good access equipment.
Companies that replace ladders for low level access platforms often see lower injury and accident rates. By ensuring good practice and a positive culture. Employers can improve safety and employee welfare by investing in good access equipment. Helping reduce the impact of employee ill-health, and wellbeing issues and improving absence rates.
Stability, durability and capacity
Access platforms offer more stability than ladders as they are often made from metal or reinforced fibreglass and feature a sturdy base that carries weight with strength and durability. This means that access platforms can handle more weight than ladders. In fact, aerial lifts are made for withstanding the weight of workers as well as their equipment and tools. For example, HLS Hugo Lift has a 120kg capacity on the operator platform, 50kg on the adjustable shelf, and 50kg on the ground carry shelf.
Access platforms off increased mobility in comparison to ladders. Workers on ladders need to constantly climb up and down their ladders and carry them around. The constant movement can cause operator fatigue and increase the risk of falls. In contrast, access platforms are compact in size to allow easy transportation and can safely lower workers at heights, to the point where they can step off a lift platform, move the platforms and raise and lower the lift with the push of a button, seamlessly moving around the job site.
Access platforms are more flexible than ladders, especially when it comes to getting into the right position for working at heights. Lifts can be placed directly underneath or in an optimal position for accessing a work area and can be raised to the exact working height needed.
On the other hand, if a ladder is too short, workers may be tempted to stand on the top rungs or overstretch to reach a work area. Or, if a ladder is too tall, it may be set up against a wall and can slip out from underneath a worker.
Ladders offer less reach than access platforms. So, ladders cannot always meet the needs of workers who need to access difficult-to-reach areas. In these instances, workers can access platforms to safely perform tasks at high elevations, without compromising on safety.
Access platforms are safer than ladders, they can help businesses lower the costs associated with falls and absences as a result of an accident when working at height. Read more about the costs of work at height failures for employers.



In Summary
When it comes to deciding between ladders and access platforms it's clear that lifts offer a lot of advantages. However, if you do choose to use one, you must make sure it's the right solution for your requirements and your team is trained to use it safely.
If you would like to know more about which access platform or ladder alternative is best for you, please get in touch with us today.