With the additional risks and measures introduced to limit the spread of Coronavirus still at the top of the agenda, safety still remains as crucial as ever to ensure that all work at height is carried out safely and in a way that minimises the risk of falls and injuries.

Companies and organisations are adapting to this 'new normal' and are looking for the best ways to safely maintain social distance, ensuring safety whilst working at height.
There's no easier solution than moving from a two-man job to a one-man job wherever you can
One quick area to gain efficiencies in is with traditional ladder usage. You already know there are reams of guidance around ladder safety. And with the new measures in place, further risk assessments are required to maintain compliance with new regulations.
The risks of two-man ladder tasks
Prior to Covid-19, it was common for ladder-related tasks to utilise two team members. One would foot the ladder, to reduce the risk of falls, and the other would perform the maintenance task at height. This approach was already inefficient as it required two team members instead of one. But in a Covid-19 secure environment, it's even more problematic as it's quite impossible to maintain social distancing. So, while some companies are delaying essential maintenance and hoping for the pandemic to end, there is a better solution. You could look to employ a vertical mast lift in all cases where a traditional ladder is used on-site.
Benefits of a vertical mast lift over ladders
The HLS Hugo Lift is an ideal long-term solution to both challenges. First, it removes the need to have a 2nd team member footing the ladder. That frees this team member up to perform other essential duties. Hugo is an ultra-secure vertical platform, suitable for nearly all repair and maintenance uses that requires only a single operator. Secondly, with the other team member removed from the service, COVID guidelines around 2m distancing are being followed. So, you'll have less risk of a spreading event on the premises that would cause team downtimes and distress.



The new work at height solution designed for food and drink manufacturers
Many food and drink manufacturers are responsible for working at height on an almost daily basis and pressure to maintain speed of production sometimes means this work is carried out in an unsafe and non-compliant way – mostly with ladders and stepladders, which cause some 40% of working at height accidents in the industry. With this in mind many of our customers have been looking for a safer and more productive alternative to steps and ladders.
We have recently developed a new Hugo Lift model specifically designed to supply a major UK food manufacturer who was looking to reduce the frequency of employees working on ladders across their multiple manufacturing sites. The Hugo Lift has been given an Anti-Microbial coating to be more hygienic by providing high levels of anti-microbial protection. This makes Hugo Lift the first of its kind and ideal for operating at sites where hygiene is of utmost importance.
Features of the HLS Hugo Lift
Not only is it solo-operated, but it's also very lightweight and compact. It will allow for easy access through lifts, standard doors, aisles and across multiple floors. This push-around vertical mast lift often called a push around (PAV) or personnel lift, is simple and safe for single occupancy. With a working height of 4.2 metres, it's ideal for most indoor height tasks. And its auto-elevation braking means there's less risk of injury due to human error.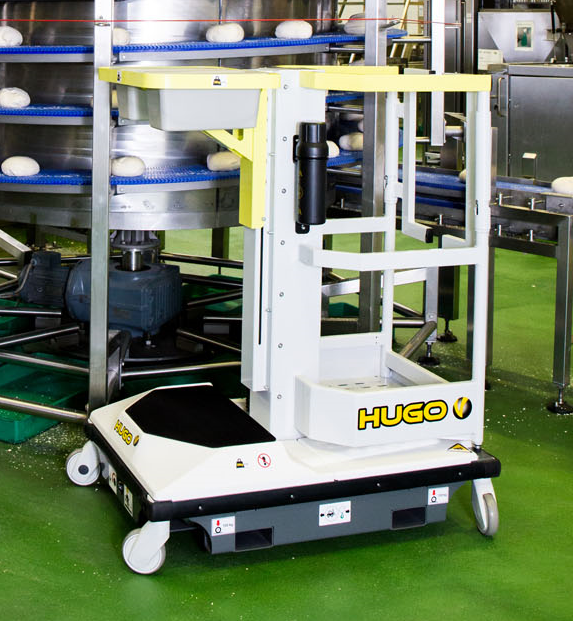 To learn more about how the HLS Hugo Lift could support you with COVID-19 compliance and boost your productivity, click here