Last week I talked about a generic term for a powered access platform - cherry picker. This week I'm looking at another one - spider lift. Read on for an explanation of the term.
People who need to work at height can sometimes be heard talking about spider lifts. Probably what they are referring to is a tracked access platform, a specific type of MEWP, usually a telescopic or articulating boom lift mounted on tracks for super-low floor loading and ground pressure, and with four outriggers, or legs - hence the spider reference - look at the similarities: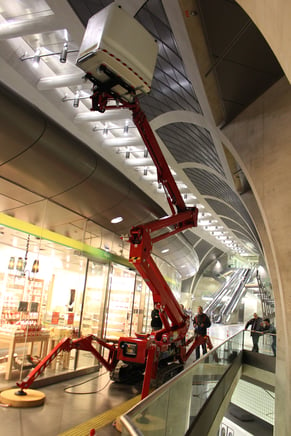 Tracked access platforms are ideal for work in atriums, where beautifully finished floors demand low ground pressure, but working heights can be upwards of 20m, or for getting to hard to reach areas - they are relatively compact when in transport mode, with the outriggers providing good stability once they are set up for use.
Height Lift & Shift supply the Bluelift range of tracked platforms, with working heights from 12m to 22m. The C13 is a simple telescopic boom mounted on tracks, whilst the C22 is a very popular flagship model with full articulating boom and jib for optimal positioning.
For more information on our range of Bluelift tracked access platforms pleases check out the Bluelift area of our website.
Does the spider lift name make sense, or should we be using the full "tracked access platform" terminology? What do you think?