The challenges of working at height in a pandemic
Working at height is often your everyday, enabling you to do it safely is ours. Here at HLS we use our industry expertise to specialise in delivering safe, and cost-effective access solutions. Our focus is providing the most productive answers to your compliance and safety needs.
The HSE recently published their report for 2019/2020 that found work at height accounted for approximately 50,000 injuries losing 400,000 working days, in the food manufacturing industry working at height is the third highest contributor to fatal incidents. As we continue to adjust to switching the world back on, we all need to adjust working practices to maintain the safety and health of everyone who could be impacted by our operations.
The food and drinks industry had to adapt amazingly fast to new ways of working from the start of the pandemic. Effective Hygiene procedures aren't new in the food and drink manufacturing industry, so there's a lot of familiarity when it comes to adapting production to be COVID-secure and keeping employees safe.
Many food and drink manufacturers are responsible for working at height on an almost daily basis – inspecting equipment, clearing blockages, high-level cleaning and so on. However, the pressure to maintain speed of production sometimes means this work is carried out in an unsafe and non-compliant way.
Now with the further hygiene procedures introduced, adjusting your risk assessments, providing the right equipment and staff training so they have the confidence to follow the new ways of working will all be critical to keeping your workplace COVID-secure.
In addition there's the need to be conscious of not just assuring compliance, but also the ways in which we maintain compliance with PUWER/LOLER, especially as the HSE are increasing their regulatory activity by performing spot checks. This is all about applying the hierarchy of control to reduce the risk of transmission.
Lone working safely
We've previously talked about social distancing and the need to consider how people can work together safely. Under the Management of Health and Safety at Work Regulations we have a duty to protect the welfare and wellbeing of our lone workers.
So what's the solution?
There's a lot to think about, and not all of the solutions lie with our people. At HLS we're really proud that Hugo Lift has been able to overcome work at height challenges, and increase efficiency and productivity within food and drinks manufacturing.
At HLS we have worked with some of the world's biggest food and drink brands and have a proven track record in solving food manufacturers' unique compliance and safety challenges by delivering practical work at height solutions and training.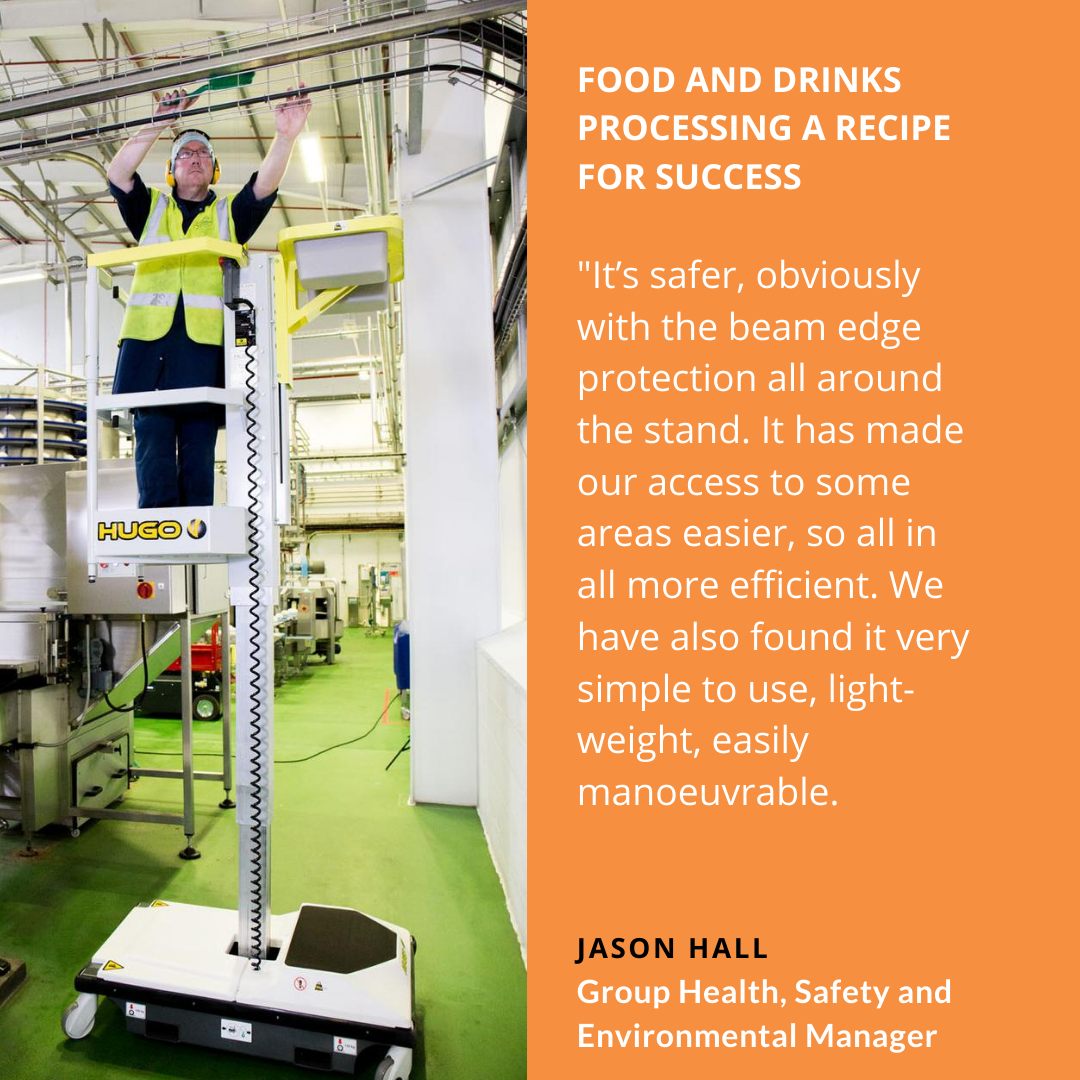 Food and drinks processing with Hugo Lift, a recipe for success
Customers such as Frank Roberts Bakery and a many leading international food and drink manufacturers have already realised the benefits of Hugo Lift as an alternative to traditional steps and ladders. Initially they wanted to reduce their risk and increase their efficiency, so Hugo being a safe lone working solution, it does just that, and is a great benefit in current times.
Watch Hugo in action at Frank Roberts Bakery
Many large factories and manufacturing facilities require access platforms onsite to react to any immediate work at height issues. Hugo is ideal for these types of occurrences when quick access is required in hard to reach spaces to keep production down time to a minimum and enable safe materials handling of tools and maintenance equipment.
This lightweight push-around access platform is safe, simple and cost effective. Rising to a height of 4.2m, it has a host of safety features built in including Platform-Interlock Technology that automatically locks the gates when the platform is elevated. We offer the Hugo with a variety of configurations to suit your needs and they are available to buy, hire or lease.
Hugo Lift has contined to work hard through the global pandemic and has proved to be a great asset which has literally ticked all the boxes for our customers as they benefitted from already had a safe lone working at height solution on site.
The Key benefits and features of Hugo Lift
Safe lone working at height
Working height of 4.2m
Height adjustable cargo shelf with multiple configurations for stock-picking, mannequin handling, cleaning, and general maintenance
Platform-Interlock TechnologyTM automatically locks the gate when the platform is elevated
Compact size and weight allows easy transportation
Lightweight design means Hugo can go in most passenger lifts and on floors with restricted floor loading
Easy to operate with simple controls for elevating
2-wheel and 4-wheel steer options
Auto-elevation braking ensures operators can't forget to apply brakes
Low maintenance systems – saves you time and money
Find out more about Hugo Lift
HLS is a leading work at height consultancy, providing a wide range of products and services for safe and efficient work at height. If you would like to find out more about a working at height onsite survey and risk assessment or you would simply like some expert advice, please do not hesitate to one of our work at height specialists call 0113 287 8446 or hello@hls.co.