Access platforms/MEWPs support a wide range of applications for working at height across a variety of industries such as food processing, manufacturing and engineering sites, warehousing and distribution, construction, hospitals and schools and in facilities management. Safe, versatile and productive they are useful pieces of kit to any operation. We can provide this equipment via short-term hire, outright purchase or increasingly more popular by Contract Rental.
Contract Rental can be a cost effective alternative to outright purchase through a low initial outlay, fixed monthly costs with maintenance or maintenance and repair included, and VAT payable on each monthly rental. New or pre-owned equipment can be provided providing the right equipment for you without the need to lay out capital on a large purchase.
As such, many companies are considering the advantages of contract rental for access platforms/MEWPs; over short term hire or direct purchase options. We'll explore some of the benefits including fixed costs, inclusive servicing and more.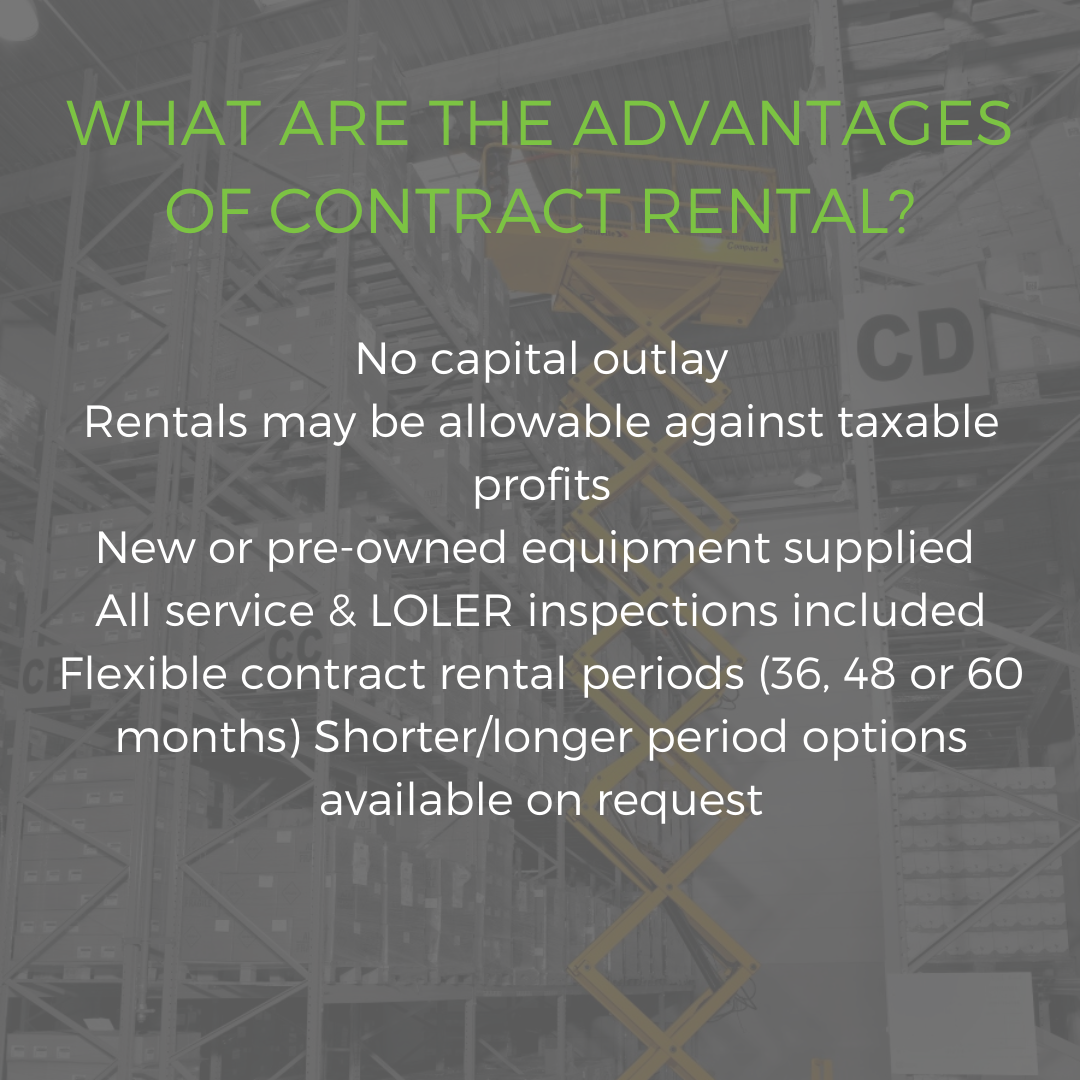 Standard benefits
More cost effective
If for example you use a scissor lift or cherry picker 6 times or more per year, contract rental can make it operationally and financially beneficial to have equipment on site full time.
No capital outlay
When you hire equipment on contract you don't need to make a large up-front payment. This can help businesses who need to maintain a healthy cash flow. By moving to smaller monthly payments, you can keep more funds in the business over a longer term, leaving you with more money to invest in other areas of your business.
Fixed Costs
Contract rental allows you to fix your costs over the period of the hire. This can help you budget and forecast more efficiently. This is especially helpful if there are supply shortages - like the kind we've seen lately - which can have an adverse effect on the cost of production.
Efficiency of scale
A contract rental agreement means you can scale up and down as you need to meet the demand. This means you're never paying for more than you need at any given time and contract rental of equipment gives companies greater flexibility with operational planning and resourcing of projects
Service inclusive
As an owner or user of an access platform/MEWP you are legally required to maintain the equipment in a safe working order and ensure it is thoroughly examined by a competent person at least every six months. These services are included with our Contract Rental agreements
Contract Rental examples based on new equipment provided on a 60 month agreement/term.
| | | |
| --- | --- | --- |
| Equipment | Cost per month | Equivalent weekly price |
| | From £169 | From £39 |
| 19ft Scissor Lift | From £230 | From £53 |
| | From £383 | From £89 |
| | From £246 | From £57 |
| | From £702 | From £162 |
Added benefits
Mandatory inspections
In addition to keeping your equipment in good order, there are mandatory inspections to document too. Our equipment complies with legislation; including PUWER and LOLER..
Safety concerns and training
When you undertake a contract rental with an expert like HLS, you benefit from our decades of experience with access platforms/MEWPs. We can advise on safe operation to help manage risk in the workplace. We train how to carry out working at height risk assessments and operator training as well as help you create rescue plans for your site.
Less equipment downtime
There's nothing worse than a equipment breaking down and having to spend a small fortune to get it back on the road again. Business contract rental takes that stress away.
The latest equipment
The field of working at height is constantly evolving and equipment suppliers are regularly updating their equipment to introduce innovation and new technologies. Contract rental of equipment enables organisations to stay ahead of the technology curve and take advantage of faster, more efficient new models.
No depreciation
If you were to buy access platforms/MEWPs for your business, you could end up losing up to 60% of the value of the equipment within the first three years of owning them.
With contract rental, you don't need to worry about that. The depreciation of the equipment you lease is taken on by the finance company and any further depreciation won't affect your lease contract.
Tax efficiencies
Contract rentals are 100% tax deductible and rentals may be allowable against taxable profits.
Keen to talk about how contract rental could benefit your organisation in more ways than one?
Please speak to our experts to find out how our cost-effective contract rental can help meet your needs.
Our team of working at height experts are ready to answer your questions and connect you with a cost-effective contract rental that can help meet your business needs.