Height Lift & Shift spent a week recently at London's ExCeL for the Safety & Health Expo 2014. In case you weren't able to get to the show itself we've written up a quick review to make sure you don't miss out! Read on...
Safety & Health Expo is a specialist exhibition for health and safety professionals to help them keep up to date on the latest innovations and thinking in the field. The show runs alongside a number of related events including the Facilities Management show; IFSEC security show; FIREX for fire prevention and protection; Energy & Environment Expo; and Service Management Expo for field service companies. Between all the different shows visitors are almost guaranteed to find something of interest
.HLS were excited to be introducing a new model in the Vizstark range of low-level access platforms; the Hugo Outdoor: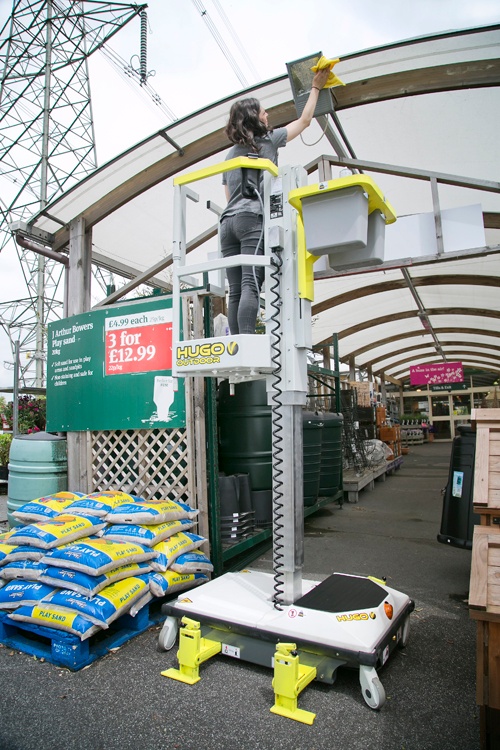 Now Hugo can provide up to 4.2m working height for work both indoors and outdoors.
Our theme for the show this year was the link between safety & productivity; we were showing the Hugo lift, both indoor and outdoor use models: the feedback we had from visitors was overwhelmingly positive, and left us with plenty of follow-up to do! The HLS stand - we were kept pretty busy!
After three good days of talking to visitors and spreading the word on safe working at height we loaded up our Hugos and wheeled them and all of our stand materials back to the van in just one visit:
we don't just talk up the link between safety and productivity, we live it!!
Hugo can carry all your work materials and tools to your work-site, saving you multiple trips carrying ladders, or towers, and then having to go back for your tools and equipment!
Of course, Hugo is only one of the many products we supply to help our customers work safely at height; anything from 2m to 22m; training; servicing; hire and sales. If you or your team are working at height or reviewing your work practices then give our office team a call - we can arrange site-surveys; demonstrations; even equipment trials, all to help you make the right choices to maintain or improve safety while improving productivity.
Our office team can be contacted on 0113 287 8446 or via our online form