1:1 RESOURCE
Labour shortages and productivity challenges - how using the right equipment can help to minimise the impact?
In this blog series, we will look at the labour shortage challenges currently being experienced by UK businesses and ways to potentially minimise the impact when working at height.
In October last year, the British Chamber of Commerce released its quarterly recruitment outlook, which showed 70% of businesses were struggling to find staff – even those hardest hit by the pandemic, such as retail and hospitality. The labour shortage is also particularly a problem for the UK manufacturing industry given the sector's typically longer supply chains, for which delays can be particularly disruptive.
The labour shortage has created a reduction in productivity, as many tasks are being delayed or left incomplete due to the low volume of workers in place to carry them out. While there's no quick fix to the current struggles being experienced across the UK in this blog series we will look at how tools, equipment, training and preventative measures can minimise the impact when working at height.
At this stage it's worth noting that, there are also a number of Government backed schemes businesses can take advantage of to help overcome the challenges such as training grants and equipment purchase tax breaks which can help refresh processes, operations and improve productivity.
So how can you improve employee productivity when working at height?
The first and most obvious is to think about how your team can be more productive in the tasks they are required to complete.
Investing in upgrading equipment to optimise efficiency can see significant increases in employee productivity. The right tools help employees perform their task efficiently and on time. There's nothing more counterproductivity (and painful) than being hindered by outdated equipment..
Moving from a two-person job to a one-person job
One quick area to gain efficiency is with traditional ladder usage. You already know there are reams of guidance around ladder safety. And with the new measures in place, further risk assessments are required to maintain compliance with new regulations, now coupled with added labour shortages, now could be the time to look at alternatives.
Benefits of moving from traditional steps and ladders to the HLS 360 Step Ladder
It is common for ladder-related tasks to utilise two team members. One would foot the ladder, to reduce the risk of falls, and the other would perform the maintenance task at height. This approach was already inefficient as it required two team members instead of one.
So, while some companies might be delaying essential maintenance due to labour shortages, there is a better solution. If you haven't already, you could look to replace traditional ladders with the HLS 360 Step Ladder which is easy to use, extremely stable and enables the user to work safely alone.
Read more about the advantages of the HLS 360 step ladder over traditional ladders here
For more information about the HLS, 360 step ladder download the spec sheet: HLS 360 spec sheet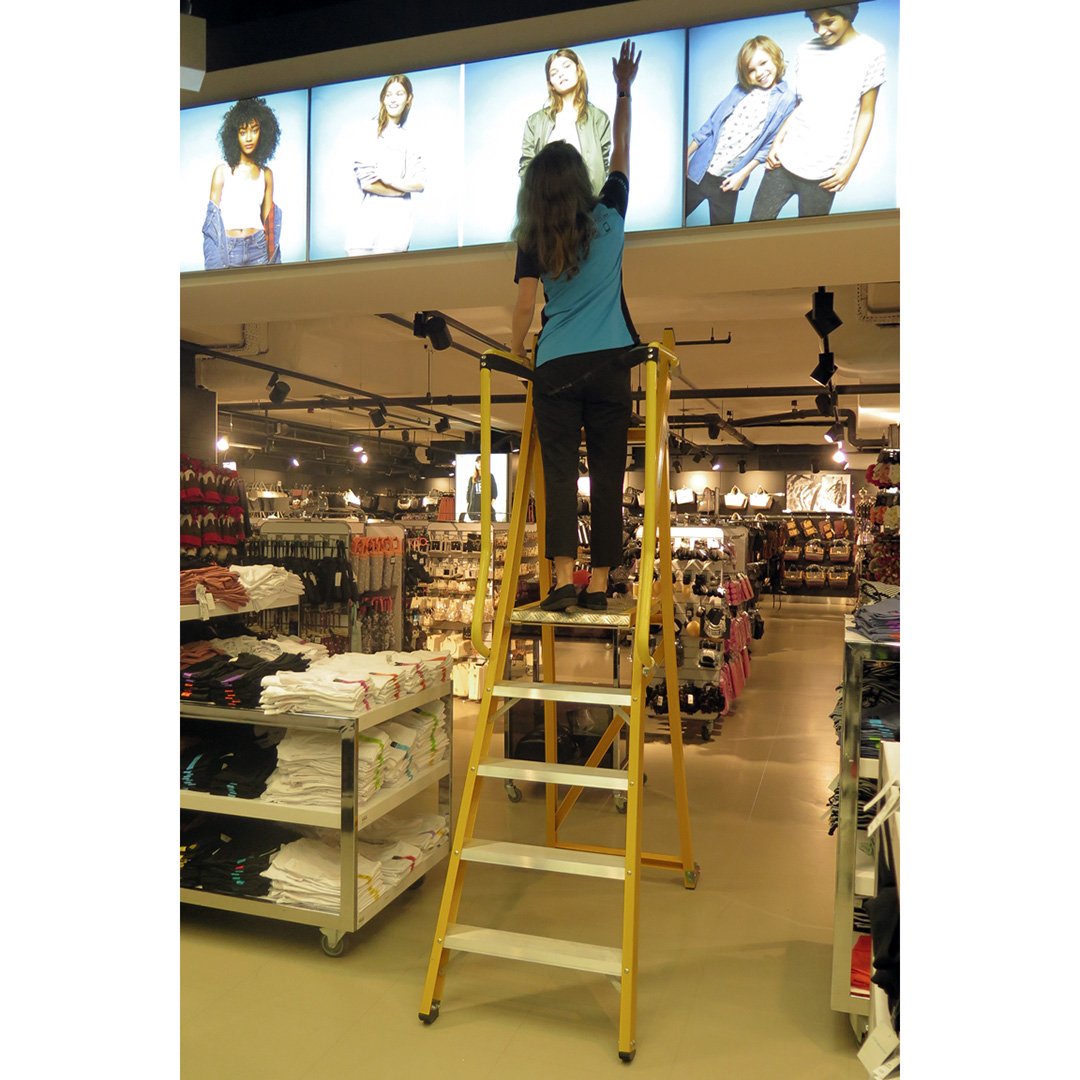 Benefits of a vertical mast lift over ladders
Another option could be using a low level access solution such as a vertical mast in all cases where a traditional ladder is used on-site. Low level platforms provide access up to 5.8m working height and are a safe and effective alternative to steps and ladders.
The HLS Hugo Lift is an ideal long-term solution to labour and productivity challenges. Hugo is an ultra-secure vertical platform, suitable for nearly all repair and maintenance uses that requires only a single operator.
Read more about the advantages of Hugo lift over traditional steps and ladders here or watch the video here.
For more information about Hugo Lift, download the spec sheet: HLS Hugo Lift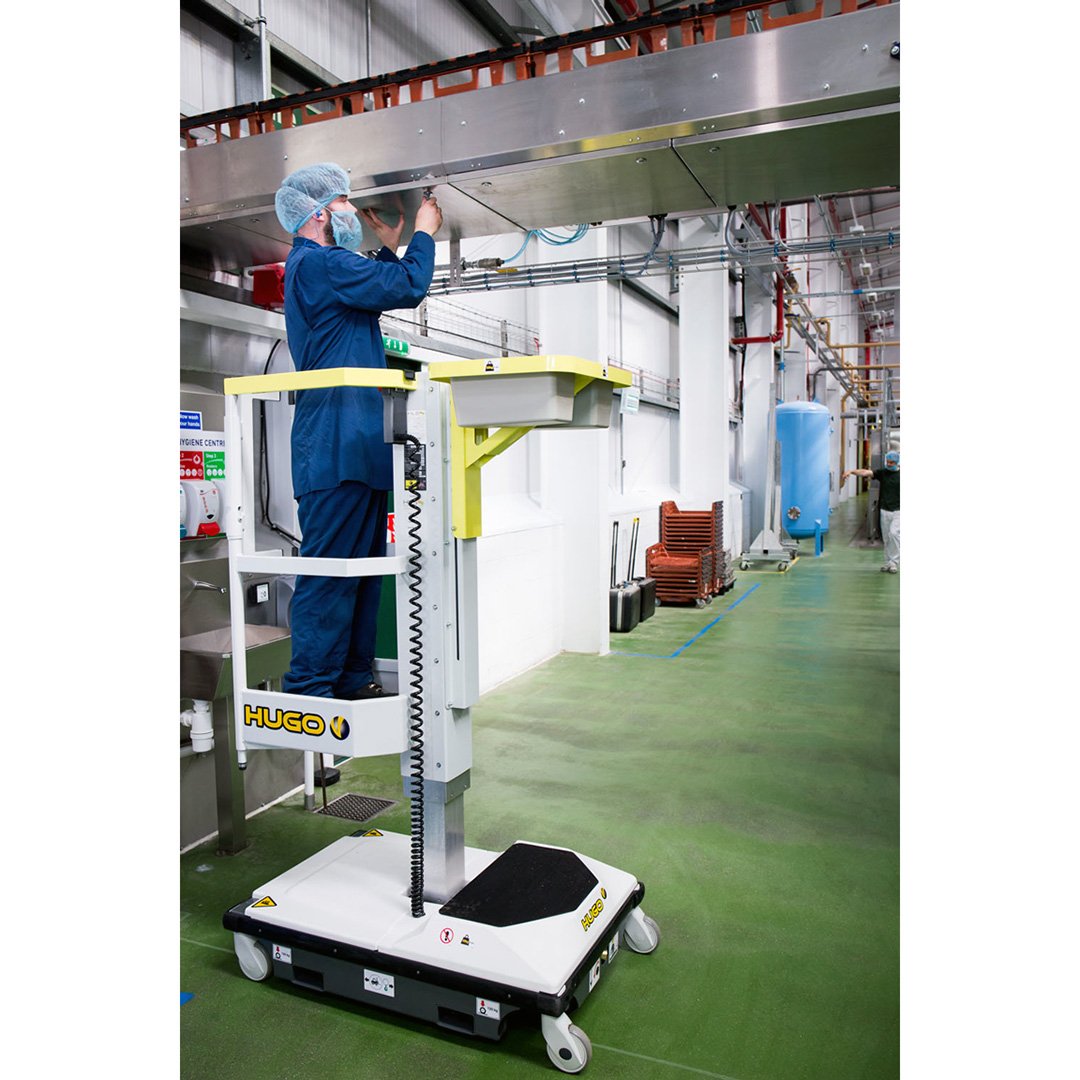 In Summary
Using the right work at height solution can help your business to overcome labour shortages whilst helping to improve safety, compliance and workforce productivity.
For more information about the wide of options available, speak to one of our work at height specialists