Most people have heard the term "cherry picker", but it has multiple meanings, one of which is to refer to a specific type of powered access platform. Cherry picker is often used as a generic term to refer to any access platform, but here at HLS we want to clear things up so read on for our contribution to the understanding of the term!
This photo landed in my inbox recently It got me thinking about the origins of the term "Cherry picking":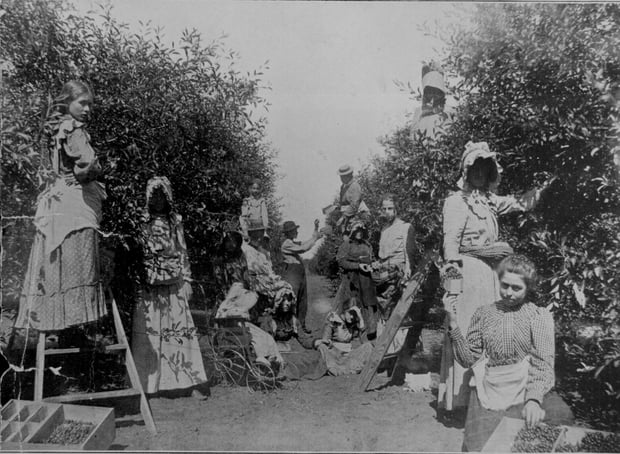 According to wikipedia the access platforms that we refer to as cherry pickers were originally invented for use in orchards, to allow hand-picking of fruit from higher branches. This would seem to fit nicely with the explanation on this information panel from Leeds Museums & Galleries.
In the powered access industry the term cherry picker is generally understood to refer to a boom lift, and more specifically still, usually an articulated boom lift - see here for an example. Articulated boom lifts give the user maximum manoeuvrability to access difficult areas, and this would make sense in an orchard where the fruit trees sadly just will not grow according to a set pattern, with branches springing up all over the place those poor pickers need maximum positioning of their access platform if they are going to get us consumers the unblemished, perfectly ripe fruit we desire!
But "Cherry picker" is often used by people outside of the powered access industry to refer to any access platform, whether it be a boom lift, scissor lift, mast lift or really any other type of powered access platform. This can make for some pretty confusing conversations "my cherry picker needs a service" says the customer with ten different pieces of powered access equipment on their site - plenty of clarification needed there before we can help that customer out!!
What do you think - should the powered access industry be making a concerted effort to educate our current and future customers on the lingo, or is it just a nice historical reference that we should be proud of and thankful for? After all it seems the invention of the cherry picker was in essence the birth of our industry!