Here at HLS towers we are embracing all things new media - we're taking our business social! Our latest experiment is in the world of twitter and #hashtags. Recently we've seen a surge in interest for the Hugo Lift from Vizstark, we've been photographing him in all his new surroundings and we'll keep posting them with the #WhereisHugo #hashtag. We hope this will help to spread the word on the huge variety of facilities and applications that the Hugo Lift is ideal for...
The Hugo Lift from Vizstark is a single person vertical mast lift, with a multifunctional shelf in front of the operator platform. That shelf can be replaced by numerous accessories depending on the specific application that Hugo is to be used for, in February we mostly used him with his storage bins in place; ideal for storing tools, light bulbs, cleaning materials, even paint cans for touching up once you've finished your maintenance jobs.Hugo gives the operator 4.2m working height, and has many unique features including:
4Glide wheel & steer - this allows you to push or pull Hugo from any direction, removing the need to turn the machine in tight spaces, and making him easier to position in the first place
P.I.T.™ © Patent Pending - this new technology locks the gate to the platform once the platform is raised, helping to ensure the operator stays within the safety of the platform whenever they are lifted from the ground
So where is Hugo?
Febuary 20th 2014
Here he is at a newly refurbished college - they're using him to help maintain the public spaces, keep light fittings clean and well maintained, and to hang student artwork and information.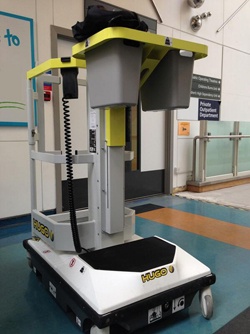 Febuary 28th 2014
Here he is in hospital, but don't worry, he's not ill. This hospital are using Hugo to maintain lighting and other overhead services, as well as for removal and re-hanging of bed curtains, and general high-level cleaning. Hugo helps make all of these tasks more efficient, makes operators more productive, and improves their safety at the same time - win win right?
Could you use Hugo? Could he help you to improve safety and productivity when you / your colleagues are working at height? For more information give our team a call on +44 (0)113 287 8446