www.freeimages.com by Jonathan Hillis
In theory ladders are quick and easy to use. They are handy, affordable and all you need to do to be up in the air is climb. In practice, when you are working at height on daily basis, ladders can impose a number of restrictions and very often can't safely meet your needs.
Working at height can involve a significant amount of manual handling. Think about the last time you used a ladder. How did you transport it to the work area? How many trips did you have to make carrying the ladder, what about your tools and work materials? Was this an efficient use of your time?
Usually, the use of ladders, even for the smallest tasks such as changing a light tube, requires at least two trips to and from the work area to transport all the necessary tools and equipment; that is if you had a second pair of hands to help you carry everything, hold the ladder or even pass on equipment you might not be able to take yourself. What if you were working alone? All this will take you twice as long and you will probably have made at least four good trips to and fro by the time the job was completed.
So while you might think using a ladder is an easy and quick solution to access height, it can prove hugely inefficient, daunting and even dangerous. It has a significant impact on costs, amount of downtime while the job is in progress, and increases the risk of accidents while working at height.
Familiarity and force of habit can mean that equipment we use regularly is no longer seen as a possible threat. Ladders have been part of our culture and contributed to human convenience since ancient times. The very first depiction of a ladder could be traced back to a Mesolithic rock painting that is at least 10,000 years old (in the Spider Caves in Valencia, Spain, if you're interested!). The painting shows two humans using a ladder to reach a wild honeybee nest to harvest honey. Can you imagine? 10,000 years of development of civilization and technological innovation and we still use ladders to do the job.
According to HSE, falls from height are the third highest cause of fatal injuries, especially in the food and drink industries. Even a fall from height less than 2m can result in a serious or even fatal injury. In the investigation and analysis of 150 falls from height accidents, the HSE established that 40% of those were due to a fall from a ladder. These statistics headed the list, followed by 17% due to falls from vehicles.[3]
The very first advice to follow when you approach working at height is, is it necessary? According to current UK legislation you must avoid working at height if you could. However, if that is not an option then you need to ensure safe access, whether that is via training, safety awareness, making sure that employees do a pre-use equipment check or replacing ladders with other forms of access equipment.
There are many reasons why a ladder could cause a fall. It could be anything from selecting the wrong equipment, to using worn or damaged ladders, or incorrect use or placement of ladders. However very often, the cause of an accident can simply be the fact that you should not be using a ladder at all.
So, when is a ladder not the solution to your working at height problem? It's when:
A task duration is expected to be longer than 30 minutes

When tools or materials being carried are not light

Users need to carry tools or equipment up to height

Users are likely to over-reach or apply a side-loading force (e.g drilling into a wall)

Three points of contact cannot be maintained for anything but the briefest period of time
HOW NOT TO USE LADDERS: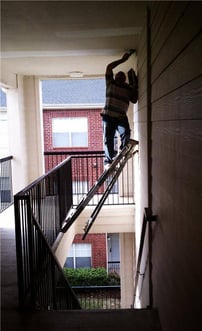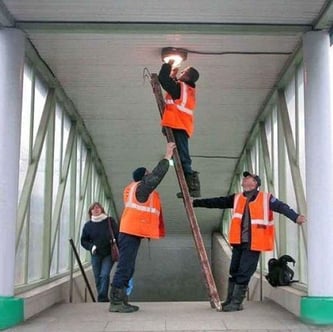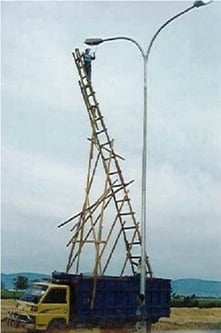 [1] [2] [3]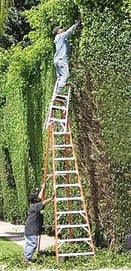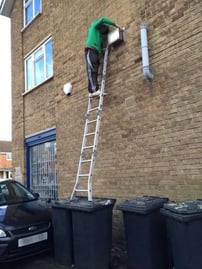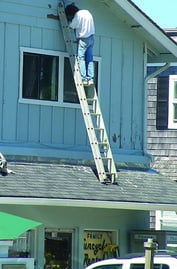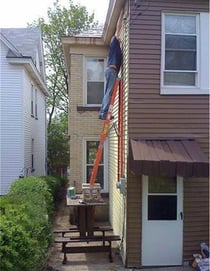 [4] [5] [6] [7]
Why endanger your business with the use of outdated, no, ancient equipment, when technological innovation today provides safe solutions to all those height issues you encounter? Access platforms can:
Be easily transported around the site, whether they are a push-around or self-propelled

Transport equipment and all necessary tools in one trip

Reduce the number of person-hours needed, making the task a simple one-person job

Reduce downtime and create not only safer, but a more productive facility

Significantly reduce the manual handling involved in working at height
WHAT REPLACING A LADDER LOOKS LIKE: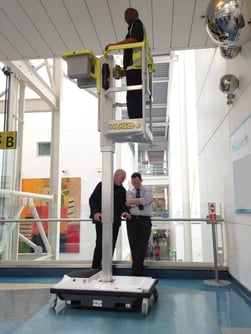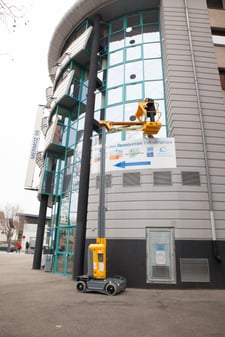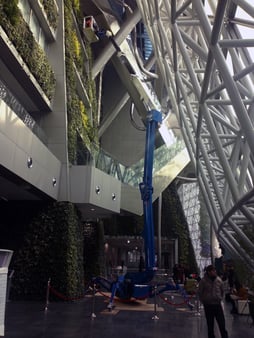 References:
[1] http://www.cultureofsafety.com/safety-tips/ladder-safety/
[2] http://www.hse.gov.uk/work-at-height/using-ladders-safely.htm
[3] http://www.hse.gov.uk/food/falls.htm
[4] Wilson, Bee (2004), 'The Hive: The Story of The Honeybee', London, Great Britain: John Murray (Publishers) ISBN 0-7195-6598-7
Picture References:
[1] http://www.phoenixhsc.co.uk/blog/how-not-to-use-a-ladder.html
[2] www.dykai.eu; www.yaplakal.com; www.weirdlife.com
[3] http://funniepicturez.blogspot.co.uk/2008/04/how-not-to-use-ladder.html
[4] http://www.phoenixhsc.co.uk/blog/how-not-to-use-a-ladder.html
[5] http://www.funnyjunk.com/How+not+to+use+a+ladder/funny-pictures/5665713/
[6] http://www.phoenixhsc.co.uk/blog/how-not-to-use-a-ladder.html