Health and safety laws apply to all businesses, regardless of their size or turnover, and as an employer it is your responsibility to provide a safe working environment for your staff and undertake the right precautions to reduce the risks of workplace dangers.
The retail industry is one of the major employers in the UK, employing around 3 million people. We know that in retail often the people who manage stores and are responsible for employees' safety are not qualified health and safety professionals. This is why we decided to create this blog to help you understand better the working at height risks that occur in retail environments, how to conduct a risk assessment in order to spot hazards more easily and deal with them effectively.
Where to look for the risks?


Some of the most common places where you could encounter working at height risks in retail involve the following jobs:
Cleaning and maintenance
Window display of promotional posters/banners
Product display
Point of sale display
Interior retail store layout
Visual merchandising
Stock-picking and replenishment
What to do once you have found the risks?
So, now that you know where to look for potential hazards, what do you do next? Here are the most essential steps that you need to take according to the Health and Safety Executive (HSE):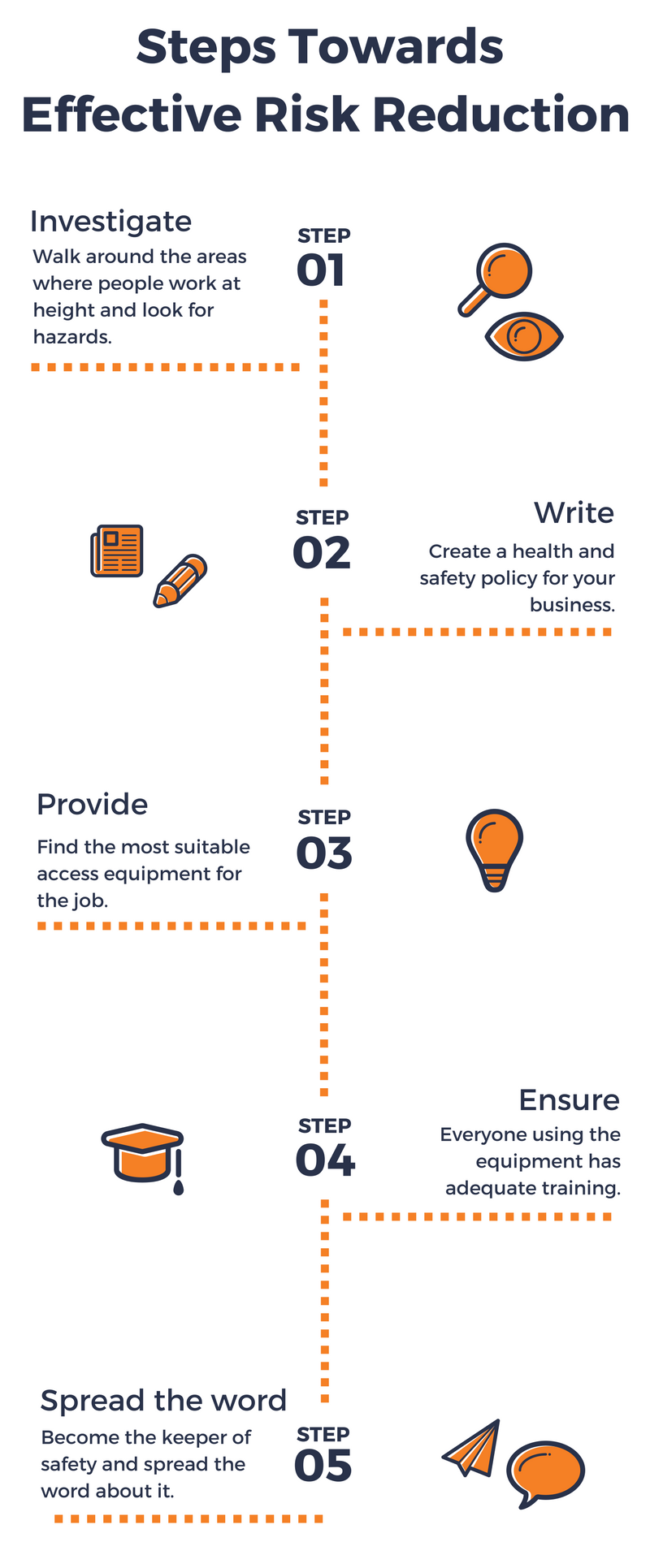 One of the very first things that you need
to do is to have a walk around the areas where your staff is working at height and look for any potential hazards and things that may cause harm.
Then think about the risk of somebody being harmed by the hazards you have found, and how serious the harm could be.
Listen to what your employees have to say and how they feel about the tasks they complete at height.They may notice things that are not obvious to you and have ideas of their own on how to control the risks.
Once you have identified the risks and what you need to do to control them, you should put the appropriate measures in place.
Write a health and safety policy for your business.
Decide who will help with your duties.
Find the most suitable access equipment for the job.
Provide training and information.
Make sure any equipment used is regularly inspected according to regulations and manufacturers guidance.
Become the keeper of safety and spread its importance among your staff.
Learn from experience and don't ignore small accidents and near-misses as they could potentially turn into bigger issues.
Make sure that everything safety related is properly recorded and reported. Don't let blame culture develop at your company, as this will stop people from opening up about accidents which is the only way towards effectively preventing them in the future.
Make sure that all safety controls you decide to put in place are in accordance with the HSE's best practice guidance and any working at height areas are clearly signed, so that the public is not at risk.
Display in visible places the Health and Safety Law poster.
Don't forget to get insurance for your business.