At HLS we've created a service division with you in mind. Our dedicated team are here to give you the comfort and security that you need when working at height.
Regular machine maintenance will not only ensure optimum performance but will also prevent costly repairs and extend the life of your equipment.
The law states that all mobile access platforms must be kept in good working order through regular checks, servicing and 6 monthly thorough examinations. All our yearly maintenance contracts include as a minimum: 2 x LOLER Thorough examinations, 2 x Routine services, Inspection reports, Certificate of Thorough Examination, and all completed by fully qualified IPAF CAP certified engineers.
The benefits of a quality maintenance program include increased productivity and reduced downtime - we can work around your needs and provide contracts bespoke to your needs.
At HLS let us do the work, we will inform you when your Thorough Examination date is approaching and arrange the most suitable time and place to carry out the planned work so downtime is kept to a minimum.
A well maintained machine runs better, boosts performance and improves efficiency. Regularly keeping up to date with your service schedule has a multitude of benefits. Engine oil and filter replacements keep engines running smoothly, and for electric machines regular lubrication keeps moving parts operating correctly and avoids damage; both save you money on potentially costly breakdowns.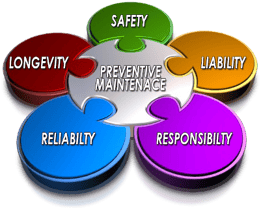 Why take out a HLS preventative maintenance contract
COMPLIANCE – Regular inspection and servicing is a legal requirement
COST SAVING – Discounted pricing on parts, and repairs while ever you're under service contract
PEACE OF MIND – Keeping your operators safe
KNOWLEDGE – Expert IPAF CAP certified technicians
PERFORMANCE - Increases the life span of your equipment
VALUE - Increases the re-sale value of your equipment
ADVICE – Free quality advice
Don't let a small problem turn into a major fault, at HLS we have a nationwide team of IPAF CAP certified engineers ready to keep your business moving forward.
So, if it's a six-monthly mandatory LOLER Thorough Examination you require, or a fast response to an emergency breakdown, call the HLS team now to discuss how we can help you. With a range of packages to suit your needs let HLS take care of your access equipment.