Working at height and manual handling are generally seen as separate issues, but often working at height necessitates a significant amount of manual handling. Just think about the last time you used a ladder, how did you transport it to the work area? How many trips did you make carrying the ladder, your tools, your work materials? How efficient a use of your time was it?
By thinking about an everyday task such as changing a light tube you see that using a ladder or warehouse step demands at least two trips to and from the work area to transport the access equipment and then any tools and materials. If this process uses one person then that person has made four trips to and from the work area by the time the work is complete.
So the time taken is more than it needs to be, and that has an impact on the cost of the job as well as the amount of downtime while the job is completed, even at modest labour rates the time taken adds up to significantly increased costs.
But there's another impact that might be less visible and that relates directly to the manual handling involved in the use of warehouse steps. Warehouse steps are big bulky tools, they weigh a significant amount, and generally need to be tilted onto two wheels for movement, this handling puts strain on the person moving the steps and requires them to travel the full distance bearing the weight of the unit. In 2011/12 7.6 million work days were lost to back pain and musculoskeletal issues*, the cost to industry is huge, the impact on individual companies is significant.
This can be massively reduced by using alternative equipiment to ladders and steps:
Tools such as the Hugo lift can be easily pushed to the work area loaded with any tools or materials needed to complete the job: one trip there and one back, a much more efficient use of the worker's time

In production facilities, less time taken to complete a reactive or urgent maintenance task means less production down time and a more productive facility

Hugo lift will also significantly reduce the manual handling involved in a work at height task, especially when compared with warehouse (aircraft) steps thus reducing the potential nuisance and lost-days factors of musculoskeletal complaints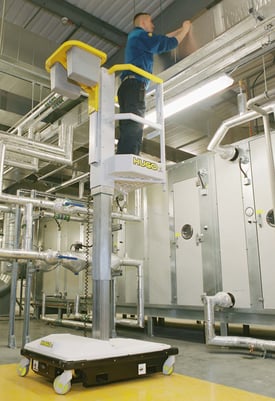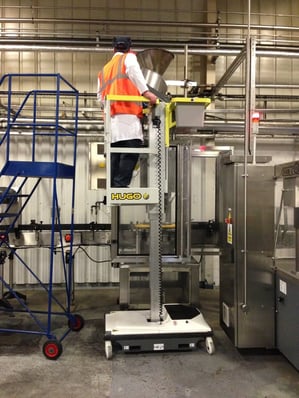 Hugo is just one of the solutions we supply to our customers to help them improve productivity and safety, if you are currently using steps or ladders and would like a second opinion on alternatives then please give our office team a call, we can arrange site surveys and / or equipment demonstrations to suit you:
0113 287 8446
Finally, let us know if there are any issues you would like us to cover on the blog, we're always interested to hear about specific issues you might be facing and you can be sure if it's an issue for you it will be an issue for others as well.