Lone Working at Height – Why Trained & Competent Professionals are Critical
Falls from height still remain the most common causes of workplace injuries and fatalities. Many of these accidents could have been prevented. The Work at Height Regulations set out in 2005 states that employers have responsibility for the health, safety and welfare at work of all of their employees. It is the employer's duty to assess risks to lone workers and take steps to avoid or control risks where necessary. Employers must make sure work is properly planned, supervised and carried out by competent people with the skills, knowledge and experience to do the job.
In addition employers now need to ensure that they follow the COVID-19 guidelines which place greater demands on businesses whose employees work at height in pairs or teams. As with any procedure, you must regularly review your working practices, risk assessments and policies, especially when procedures change or an incident occurs.
"Duty holders have the responsibility to ensure they have suitable competent advice to be able to fully understand the risks employees face, and implement adequate control measures so they can work safely." The Health and Safety Executive (HSE).
Lone working at height and the Law
The Health and Safety Executive (HSE) defined lone workers as "those who work by themselves without close or direct supervision."
There is no legal prohibition on lone working and it is often safe and in the current climate can enable workers to socially distance.
There may, however, be increased risks to the health and safety of employees and others when working alone. Employers therefore need to be mindful and create a good safety culture, balancing the risks and ensuring they are positively and proactively managed.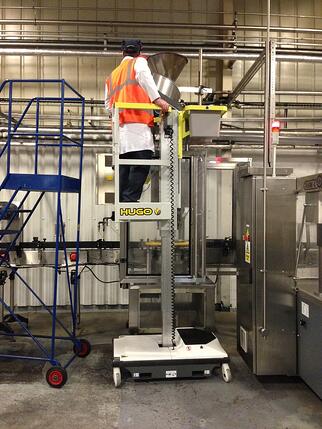 Assessing and controlling the risks of lone working at height
When working alone, a clear policy and controls should be in place to check on the welfare of the worker at intervals with respect to the level of risk.
There are many different environments where lone working at height may take place with different levels of risk, therefore it's essential that you do everything possible to ensure you protect them as far as 'practically' possible.
An example of working in an environment where the risks can be effectively managed is where there are other employees and supervisors working closely, who can provide regular check ins and can provide assistance quickly if needed, for example retail, education or health care environments.
If working in a manufacturing or engineering capacity, operating heavy machinery and working in loud environments, the risks of working alone increases. These lone workers need to be contacted regularly to check on their well-being. Depending on the level of risk, there are escalated alarmed devices that can help protect these workers.
The procedures here are merely an outline of what you can do and can help you to provide a safe working environment for all those you are responsible for. If however you are unsure of what you need to do to protect lone workers, always seek expert advice.
The risk assessment should also identify the potential hazards of lone working at height, the correct safety training and equipment required to keep workers safe and business operations running smoothly.
How to protect lone workers
As outlined above lone working brings with it challenges which a typical worker might not consider. While working alone a fall, slip or trip becomes a much larger threat to the individual so trained competent professionals are critical.
Have a rescue plan
Plan how you would rescue workers in the event of a fall, or in situations where a machine can't be lowered for reasons such as malfunction, illness or injury. Take a look at our blog 'how to develop a rescue plan for working at height' for more guidance.
Everyone involved in working at height and rescue procedures should be trained on rescue equipment and procedures.
Training competent persons
You should make sure that the person working at height has sufficient skills, knowledge and experience to perform the task working at height. This also means providing full training on how to use the equipment and appropriate emergency procedures.
Training is essential when working at height and where there is limited supervision. As with any person working at height, lone workers should be trained in standard risk assessment, work at height, rescue at height and manual handling.
Employers must ensure that workers are competent to deal with the requirements of the job and are able to recognise when to seek advice from other sources.
In Summary
Lone working brings with it challenges but as long as the risks are properly managed through the implementation of proper training and appropriate equipment it is often safe and in the current climate can enable workers to socially distance, ensuring your workplace is also COVID-secure.
HLS is a specialist organisation offering the highest standard of work-at-height training to operatives and managers.
HLS can assist you choosing the correct course to suit your teams needs on any category at your site or one of our network of IPAF approved training providers fully equipped training centres across the UK.
Talk to us to discuss your training needs.